Roger Waters -> 38:30 min
"Roger Waters" tocou com veteranos de guerra feridos durante um show beneficente que aconteceu em Nova York, quinta-feira (8).
"Waters" subiu ao palco do evento Stand Up For Heroes com 14 soldados que conheceu em Washington, em um hospital militar. Ele chegou a fazer vários ensaios com os veteranos, tanto no hospital como em Nova York.
Definindo a experiência de se apresentar com os militares como fantástica, "Roger" revelou que pretende ser uma fonte de apoio para eles. "Quero apoiar esses caras e seus camaradas durante o processo de cura", afirmou.
O músico, que perdeu o pai durante a guerra, diz ainda sente uma "enorme empatia" pelos homens: "Perdi meu avô em 1916 e meu pai em 1944, então entendo a sensação de perda e o que as perdas da guerra podem provocar nas pessoas".
"Waters" ainda confessou estar menos interessado na questão política da guerra do que nas sensações dos veteranos. "O que me interessa é o fardo que esses homens carregam e nunca iria questionar o motivo ou sequer sonhar em falar sobre política", declarou.
Durante sua apresentação, o artista tocou três músicas, incluindo "Wish You Were Here", um clássico do "Pink Floyd".
Questionado sobre uma possível reunião da banda, ele disse achar improvável que isso acontecesse: "Acho que "David" está aposentado. Não posso falar por ele, mas é a impressão que tenho. Mas tanto faz. Todas as coisas boas chegam a um final".
No evento, também estiveram presentes Bruce Springsteen, Ricky Gervais e Robin Williams.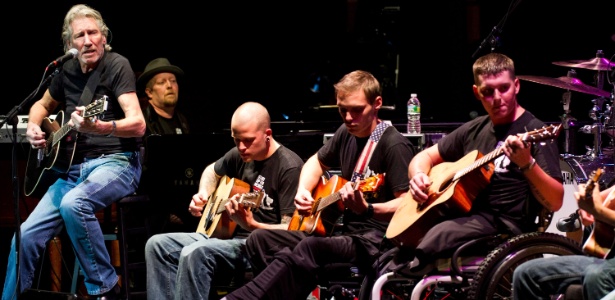 On Thursday night at The Beacon Theater in NYC I took part in an evening called, Stand Up For Heroes. This event is six years old, is put on by The Bob Woodruff Foundation which raises money to help wounded veterans. I was privileged to perform with some of the wounded. A great bunch of young men (Will, Eric, Brandon, Josh, Nathan, Erik (soon to be Major Erik Johnson), Eddie, Daniel, Rex, Lander and Tim, to all of whom I extend my love and heartfelt thanks. So here's some of it.............. Victims of war, no matter who they are, or where they're from, are all to often forgotten, I support all who reach out to help them.
Thanks also to GE Smith, Jeff Kazee, Abe Fogle, Sergeant Jon Joyce, Arthur Bloom and Greg Loman.
Love
Roger