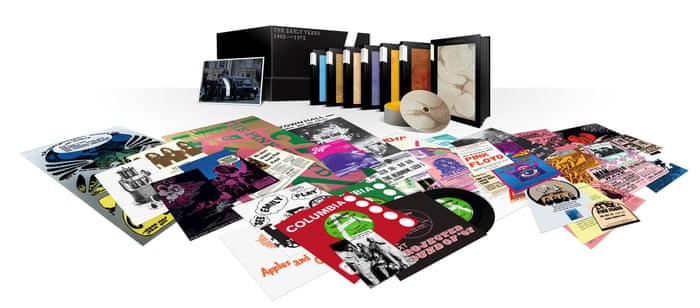 O Pink Floyd anunciou detalhes de um box set luxuoso que compreende o material que a banda gravou em seus primeiros anos de carreira.
Intitulado "The Early Years 1965-1972", a caixa virá com nada menos que 27 discos e 130 faixas, incluindo faixas inéditas, outtakes e demos. São mais de 12 horas de áudio e 15 horas de vídeo, que trará raras imagens de concertos e outras filmagens inéditas. A caixa também trará singles de sete polegadas, memorabilia, além de sete pacotes com livros individuais.
Um comunicado de imprensa afirma que o box set "vai dar aos colecionadores a oportunidade de ouvir a evolução da banda e testemunhar sua parte em revoluções culturais através de suas primeiras gravações e sessões de estúdio, todas antes do lançamento de 'The Dark Side Of The Moon'".
"The Early Years 1965-1972" será lançado em 11 de novembro. Veja a track-listing completa
aqui
Uma versão mais enxuta da caixa, "The Early Years – CRE / ATION", também será lançada em CD duplo no mesmo dia que o boxset. Confira o vídeo de divulgação abaixo, contêm trechos inéditos de imagens da época
Descrição:
Pink Floyd em 1967
VIC SINGH
O primeiro volume da caixa, '1965-1967 CAMBRIDGE ST/ATION', cobre o período em que a banda foi liderada por Syd Barrett e contém as demos que antecederam o contrato com a EMI em 1967, os singles que não foram incluídos no primeiro álbum, "The Piper at the Gates of Dawn", e a gravação de um concerto de 67 em Estocolmo. Refira-se a presença dos seis temas de 65 com o guitarrista Rado Klose que foram pela primeira vez editados num duplo single no dia 27 de novembro do ano passado, numa ação relâmpago para evitar que os seus direitos caíssem em domínio público antes da edição de "The Early Years". O DVD/blu-ray contém, entre outros, filmagens de concertos no UFO em Londres.
O segundo volume, '1968 GERMIN/ATION', cobre o período de transição com a saída de Syd Barrett e a entrada de David Gilmour. Destaque para uma sessão recentemente descoberta nos estúdios da Capitol Records em Los Angeles. Na parte audiovisual sobressai o promo clip restaurado de 'Point Me at the Sky'.
O terceiro conjunto de discos, '1969 DRAMATIS/ATION', é um dos mais importantes pois revela a produção ao vivo 'The Man' e 'The Journey', cujas canções acabaram divididas por "More" e "Ummagumma". Teremos performances em Amesterdão e em Londres (BBC), e músicas da banda sonora de "More" que foram usadas no filme mas não incluídas no disco. O DVD/blu-ray revela 20 minutos de um ensaio de 'The Man'/ 'The Journey' no Royal Festival Hall, que inclui 'Afternoon' (que iria ser 'Biding My Time'), 'The Beginning' ('Green Is The Colour'), 'Cymbaline', 'Beset By Creatures of the Deep' e 'The End of the Beginning' (a última parte de 'A Saucerful of Secrets') e uma versão de 11 minutos de 'Interstellar Overdrive' com Frank Zappa.
A versão em 2 CD, "The Early Years – CRE/ATION"
'1970 DEVI/ATION' dá um tratamento similar à música da banda que gravaram para "Zabriskie Point"/"Deserto de Almas", de Michelangelo Antonioni. No mesmo ano, lançaram "Atom Heart Mother", cuja primeira interpretação para a BBC com coro e orquestra é aqui publicada. O vídeo contém uma hora de concerto para o canal KQED de São Francisco e a cobertura pela TV francesa da sua participação no festival de St. Tropez.
Nos discos '1971 REVERBER/ATION' estão as demos de 'Echoes', a sua mistura quadrafônica e imagens da performance que fizeram com o Ballet de Marselha de Roland Petit. Mais imagens da colaboração com o coreógrafo surgem no volume de 1970 e continuam em '1972 OBFUSC/ATION', cujo principal atrativo é a primeira edição em CD do áudio de "Pink Floyd Live at Pompeii", o documentário de Adrian Maben, incluindo a reunião das duas partes de Echoes' que no filme estão separadas.
O sétimo volume é o bônus 'CONTINU/ATION' e tem no CD as primeiras BBC sessions, a música de "The Committee", e a banda sonora que tocaram em direto em 1969 na BBC TV para acompanhar a ida à Lua da "Apollo 11".
Material original Pink Floyd:
Pink Floyd The Early Years 1965-1972
The definitive Early Years box set, released 11th November 2016
27 DISC COLLECTION ON CD/DVD/BLU-RAY INCLUDES:
+ Many hours of rare and unreleased music & video
+ 14 Hours of video includes restored footage
+ original 4.0 Quad mixes / BBC sessions/live recordings
+ rare tracks including more than 20 previously unreleased
+ historic TV performances, live concerts and 3 feature films
+ Remixed 5.1 audio for 'Live At Pompeii' footage
+ collectable memorabilia
+100+ photos, most previously unseen
+ early singles + B sides on CD & vinyl
* 7 book-style packages, each with multiple discs. 6 are dedicated to a specific period and include related memorabilia and many unseen photos.
* Box bonus package includes collector's audio and video. Box includes bonus larger replica memorabilia (posters, flyers, etc.) plus 5 x reissued replica 7" singles, mastered from the original analogue tapes.
ALSO AVAILABLE ON 11TH NOVEMBER 2016:
+ 2-CD/Download/Streaming set - 'The Early Years - CRE/ATION 1967-1972'
* The 6 year-specific packages will be made available in early 2017. The bonus package and larger memorabilia is exclusive to this box set.