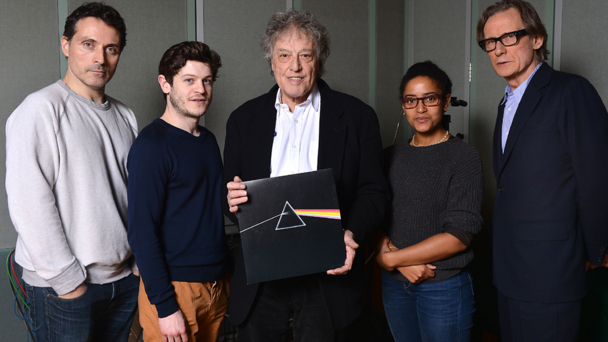 O lendário dramaturgo Tom Stoppard, já escreveu um original à BBC Radio 2
como marco do 40 º aniversário do álbum "The Dark Side Of The Moon".
Comemorando seus 40 anos, a obra prima do "Pink Floyd", "Dark Side on The Moon", terá uma peça escrita pelo dramaturgo britânico Tom Stoppard. A peça vai chamar-se "Dark Side" e será transmitida pela Rádio 2, da BBC.
Vencedor do Óscar pelo texto de "Shakespeare Apaixonado" e autor de peças importantes para o teatro no Reino Unido, como "Rock n" Roll", Stoppard disse ao jornal The Guardian que é fã da banda e sempre teve vontade de escrever uma história baseado na obra de 1973. Ele comenta estar muito feliz com a oportunidade de concretizar este sonho.
"Finalmente, eu achei algum tempo e me sentei para ouvir o álbum pela milésima vez, peguei do começo e continuei", disse, sem contar detalhes da história, nem de como a peça será encenada para a rádio. "Essa é mais ou menos a primeira vez que lguma coisa assim é feita na rádio."
David Gilmour, aprovou o projeto: "Eu li o roteiro do trabalho de Tom rádio e achei fascinante. Mal posso esperar para ouvi-lo ganhar vida com o grande elenco encenando, se enrolar nisso. Eu não consigo pensar em uma maneira melhor para comemorar o aniversário de 40 anos do "Dark Side of the Moon"", afirmou.
"Dark Side" está sendo descrito como uma "história fantástica e psicodélica que leva os ouvintes para uma viagem além de suas imaginações" e terá 1 hora de duração. Compõe o elenco os atores Bill Nighy, Rufus Sewell, Iwan Rheon e Amaka Okafor
Não foi divulgada data de estreia, nem a sinopse. O diretor musical da rádio, Jeff Smith, apenas comentou que "Dark Side" será um "exame dramático de tremas como ganância, conflitos e loucura."

Legendary playwright Sir Tom Stoppard has penned an original new play for BBC Radio 2 to mark the 40th anniversary of Pink Floyd's album, The Dark Side Of The Moon.
Dark Side, which will air on the August bank holiday, is a fantastical and psychedelic story based on themes from the seminal album and stars a stellar cast which includes Bill Nighy, Rufus Sewell, and Adrian Scarborough. The lead roles will be played by Olivier Award-winning Iwan Rheon (Misfits) and stage actress Amaka Okafor (The Garbage King).
A long-term fan of Pink Floyd, Academy Award-winner Sir Tom Stoppard has been inspired by the challenge of giving the audience an experience worthy of The Dark Side Of The Moon's name. He was first approached with the suggestion of writing a play based on the album by a friend in 1973. Now, 40 years later, he has created an hour-long audio drama incorporating music from the album and a gripping story that takes listeners on a journey through their imaginations.
Sir Tom Stoppard says: "This is more or less, I think, the first time anything like this has been done on radio. [I thought] Yes I definitely want to do that but had no idea for a long time what I would do. Finally, I found some time and sat down and listened to the album for the thousandth time and picked up from the beginning and kept going..."
Pink Floyd's David Gilmour says: "I have read the script of Tom's radio play Dark Side and found it fascinating. I can't wait to hear it come to life with the great cast performing it and our music woven into it. I can't think of a better way to celebrate The Dark Side Of The Moon's 40 year anniversary."
Jeff Smith, Head of Music for BBC Radio 2 and 6 Music, says: "Radio 2 is proud to be the home of a very special hour where you can hear an amazing new script by Sir Tom Stoppard framed and inspired by the music of Pink Floyd. Dark Side pays tribute to the album The Dark Side Of The Moon with a dramatic examination of themes including conflict, greed and madness. A combination of Sir Tom's brilliance, an iconic album and an outstanding cast ensures this production will be unmissable."
The Dark Side Of The Moon remained in the charts for 741 weeks from 1973 to 1988. With an estimated 50 million copies sold, it is Pink Floyd's most commercially successful album and is frequently ranked as one of the greatest albums of all time.
Dark Side is made by the in-house BBC radio drama team.
Plus in a special, Now Playing @ 6 Music, Pink Floyd fans can decide the music played in the run up to Dark Side. Hosted by Tom Robinson, 6 Music's regular themed Sunday evening show allows music lovers to direct the musical direction through their correspondence.