Pink Floyd é o primeiro destaque da categoria "shows", recém-lançada pela Livraria da Folha. O DVD "Delicate Sound of Thunder" lidera ranking de vendas do site, neste mês.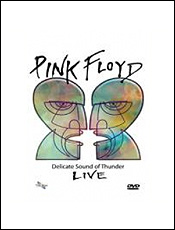 FAIXAS :
01. Shine On Your Crazy Diamond
02. Sing Of Life
03. Learning To Fly
04. Sorrow
05. The Dog's Of War
06. On The Turning Away
07. One Of These Days
08. Time
09. On The Run
10. The Great Gig In The Sky
11. Wish You Were Here
12. Us And Them
13. Money
14. Comfortably Numb
15. One Slip
16. Run Like Hell
17. Shine On You Crazy Diamond
Título
: Delicate Sound of Thunder - Pink Floyd
Região
: Região DVD 4 - América do Sul e Oceania
País de Produção
: Reino Unido
Formato de Tela
: Fullscreen 4x3
Sistemas de som
: Dolby Digital 5.1 e 2.0
Preto e Branco / Colorido
: Colorido
Em segundo lugar, ficou Paula Fernandes - Ao Vivo, musa
do cantor Roberto Carlos.
U2, que se prepara para tocar no Brasil, aparece na terceira
posição com U2 - Live in Berlin 1981
A música erudita figura em quarto com Pavarotti em Barcelona.
O jazz toca no quinto lugar com Miles Davis - Live In Germany

Confira a lista dos mais vendidos da categoria shows