Um dos melhores acontecimentos da década de 80 na trajetória da música progressiva. A banda é muito consistente, (músicos da Turquia e França), aproximando-se ao estilo Camel, sendo mais profundo e mais obscuro, atmosferas mais íntimas, exibindo momentos de Pink Floyd, Genesis ou da banda sueca Anglagard. Cada segundo é rico em melodias magníficas, grandes seções instrumentais, e um excelente vocalista (canta em Inglês). Um daqueles álbuns em que todas as faixas são destaques.
Exótico, etéreo, finesse experimental. Conseguem dosar o jazz progressivo em sua instrumentalização com influências orientais, numa musicalidade virtuosa, sólida e extremamente versátil, estrutura tangencial do melhor rock progressivo francês de meados dos anos 70. A sonoridade dos solos de flauta elucida cada passagem dos arranjos que progridem harmonicamente com teclados, solos de guitarra e baixo.
Infelizmente apenas dois trabalhos, "Crossing the line" editado em 1979, e "Between Flesh and Divine". O Asia Minor se separou em 1982 , após uma apresentação especial para a TV francesa. A Gravadora Musea reeditou estas pérolas em 1991. Com certeza... Boa audição!



Setrak Bakirel
lead vocals, guitar, bass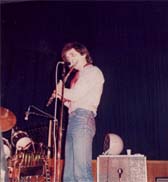 Robert Kempler

(BFaD

)




Keyboards, bass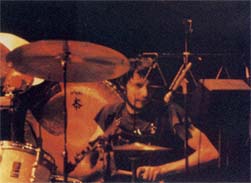 drums, percussion
1. Nightwind (6:23)

2. Northern Lights (7:45)

3. Boundless (3:00)

4. Dedicace (6:11)

5. Lost In A Dream Yell (7:42)

6. Dreadful Memories (3:00)
Nightwind