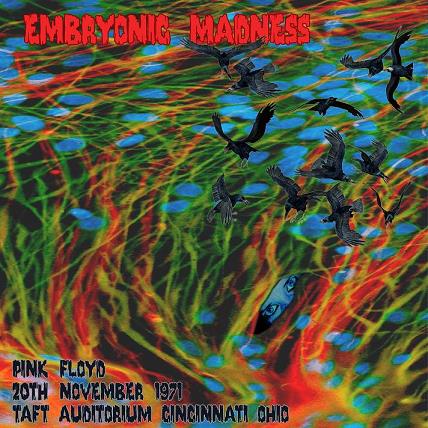 1:55:04
Este é o último show da "Meddle Tour", o show final em 1971, e tem várias características que lhe dão status especial. Duas músicas foram tocadas em público pela última vez na história da carreira do Pink Floyd: "Cymbaline" e "The Embryo". Quanto a este último, a versão interpretada naquela noite foi a maior já executada em concerto, com mais de 28 minutos. A razão foi um defeito no equipamento de "Richard Wright". Durante o reparo o resto do grupo continuou, administrando o tempo com improvisações, trechos de músicas que existiam até então apenas em forma de projeto ou que nem sequer foram planejadas.
Portanto, "
The Embryo
" é a estrela do show não só devido à sua extensão, mas principalmente por causa do longo solo de guitarra, em verdade uma "jam" do grupo que principalmente, revela uma versão bastante prematura de "Breathe", que seria trabalhada no mês seguinte depois de alguns slides de guitarra interessantes. Especulou-se na época, se isso foi algo espontâneo por parte de "Gilmour" no palco ou se fora algo planejado. Esta é a razão por que ouvir essa fita, ouvir a genialidade dos músicos em ação criando ao vivo. É pura magia, mas também o marco definitivo do início de um processo de ruptura da banda com sua era mais psicodélica.
O melhor registro disponível deste famoso concerto, de grande apreço por parte de fãs e colecionadores, mesmo que sendo incompleto ao final de "Echoes", a qualidade do som compensa, e existem os bônus. Boa audição!
Pink Floyd
Embryonic Madness
Taft Auditorium, Cincinnati, Ohio
Date : 20/11/1971
CD 1:
01. The Embryo (28:12)
02. Fat Old Sun (13:09)
03. Set the Controls for the Heart of the Sun (15:27)
CD 2:
01. Atom Heart Mother (19:40)
02. Careful with that Axe, Eugene (13:25)
03. Cymbaline (12:48)
04. Echoes (15:53)
05. Echoes (2nd source)*
06. Blues (2nd Source)*
Total length:
118:34
*as a bonus I included the full Echoes from another source and the 2nd encore of the night "Blues".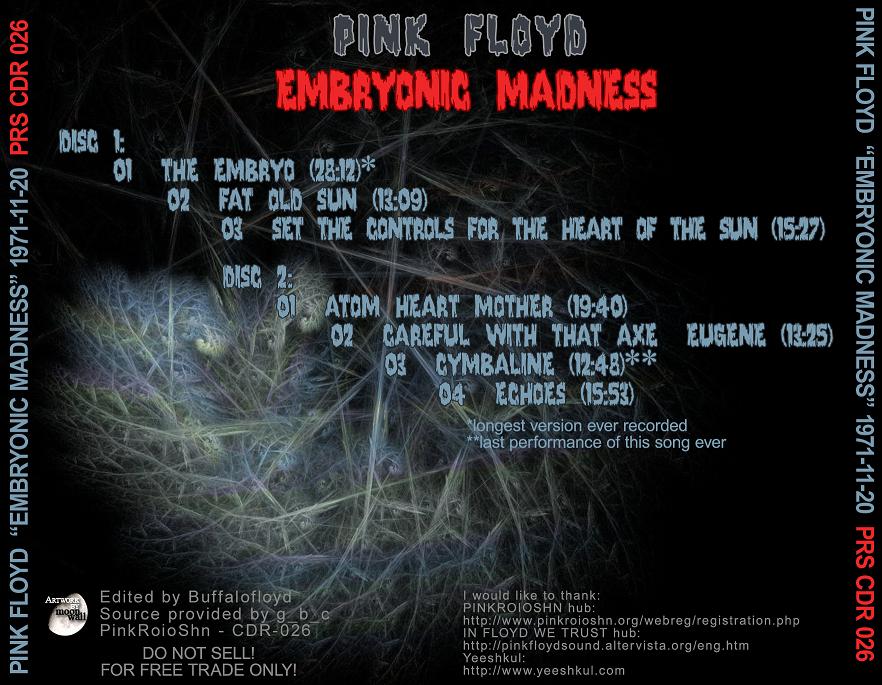 Mp3 - 320 kbps
mediafire.1
(192.70 MB - 320Kbps/ 48kHz)
mediafire.2
(146.06 MB - 320Kbps/ 48kHz)
This is a historic show for many reasons. The first is that this is the last gig of the 1971 tour, this date was a replacement date for the concert that was originally schedeuled on October 30th at the Music Hall in Cincinnati. A couple more reasons (and these are the good ones) are that this performance marks the last time the band ever performs 2 songs which had been staples of their setlist for quite some time, one song being The Embryo and the other one being Cymbaline. The Embryo contained here is the longest version to have ever been recorded, lasting about 26 minutes... incredible!!! The band is quite hot this night too and therefore all the songs are performed very well in my opinion. This is the 1st recorder for this date and unfortunately it is not complete, missing some of Echoes and all of the encore, Blues. This is, however, the better sounding of the 2 recorders for this date a deserves a very nice EX rating. It's something special when you get all these goodies in one RoIO, please enjoy responsibly! PinkRoioShn.