Nick Mason posa com a mesa de som utilizada durante as gravações
A mesa de som usada pelo Pink Floyd para gravar o álbum clássico "Dark Side of the Moon" foi leiloada por US$ 1,8 milhão. A expectativa era que o aparelho EMI TG12345 MK IV chegasse a US$ 700 mil dólares.
Além do console, toda a papelada original que comprova a validação do instrumento, como o manual de instrução e documentos históricos do técnico do estúdio Abbey Road, Daniel Gibson, e uma cópia do álbum também estavam no pacote.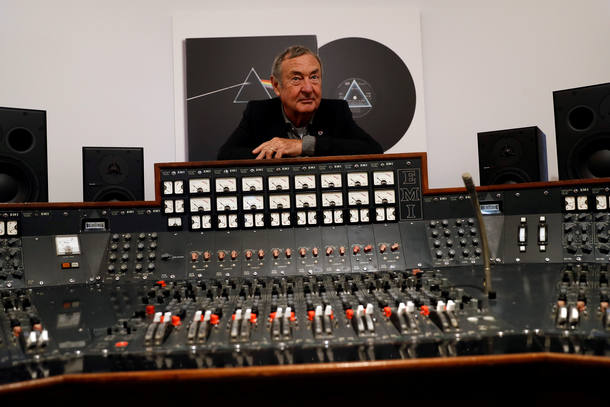 A mesa de som ficou no famoso estúdio de 1971 a 1983, servindo de gravação para gravações de três Beatles (Paul McCartney, George Harrison e Ringo Starr), Kate Bush e The Cure.
O antigo dono do valioso objeto - construído por engenheiros dos próprios estúdios de Abbey Road e da EMI e um dos mais modernos da época - é o produtor Mike Hedges, que o comprou em 1983.
"The Dark Side of the Moon" é o oitavo álbum de estúdio do Pink Floyd, lançado em 1 de março de 1973 nos Estados Unidos e em 24 de março do mesmo ano no Reino Unido.