O filme "Pink Floyd: The Wall" será exibido hoje, às 19h, no Sesc de Sorocaba (SP) com trilha sonora ao vivo tocada pela banda Pink Floyd Dream. A atração acontece no anfiteatro e é gratuita. Os interessados devem retirar os ingressos com uma hora de antecedência na Central de Atendimento.
Inspirados no cinema mudo do final do século 19 e começo do século 20, em que a trilha sonora era executada ao vivo por piano ou orquestra, a banda Pink Floyd Dream busca reproduzir, durante a exibição, as músicas e efeitos sonoros do filme.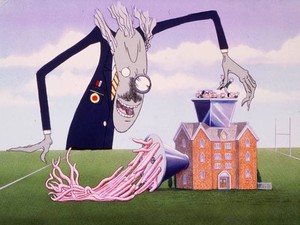 O filme Pink Floyd The Wall é considerado um clássico.
O filme retrata a história do superstar Pink, um roqueiro frustrado, que se sente abandonado no mundo pelos pais, pela fama e pela mulher, culpando-os por seu isolamento e insatisfação. As fantasias delirantes do artista o queimam no mundo da música e ele só consegue se apresentar no palco com a ajuda de drogas. O drama acompanha o cantor desde sua juventude, mostrando como ele se escondeu do mundo exterior.
"Pink Floyd The Wall" é considerado um clássico do cinema mundial, por relatar, por meio de cenas memoráveis, o que Roger Waters representou com composições e letras que retratam seus sentimentos da época.

Pink Floyd Dream foi criada em 2010 e é composta por Marcos Meneghel (voz e contrabaixo), Alexandre Chamy (voz, guitarra e violão), Lilian Ximenes (voz), Renato Moog (teclado, sample e sequence), Fabio Bizarria (sax e flauta), Carina Assencio (voz), Cassiano MusicMan (bateria e percussão), Victor Melo (voz, guitarra e violão) e Regina Migliore (voz).
O Sesc fica na rua Barão de Piratininga, 555.
Jardim Faculdade, Sorocaba - SP,
Telefone: (15) 3332-9933