Super Grupo do guitarrista holandês Arjen Anthony Lucassen que conta com Chris Maitland (bateria, ex-PORCUPINE TREE)
Da mesma forma que os projetos anteriores assinados por Arjen Lucassen, o GUILT MACHINE mantém uma pretensão progressiva. Se o guitarrista nunca abandonou o conceito musical do seu trabalho por esse caminho, seja no AYERON ou no STAR ONE, na sua nova banda são introduzidas influências diferenciadas. "On This Perfect Day" conta com composições mais longas – mais ou menos com dez minutos de duração – e características sonoras mais obscuras, atmosféricas e melancólicas.
Arjen Anthony Lucassen (nascido em 3 de abril de 1960, Hilversum) é um compositor e músico da Holanda, mais conhecido por seu projeto de longaduração musical intitulado
"Ayreon"
. Lucassen reproduz uma ampla variedade de instrumentos, principalmente guitarras e sintetizadores, mas também outras, como a flauta emellotron.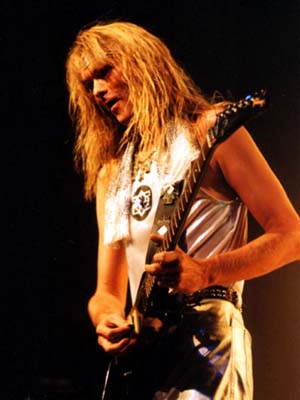 Ayreon - Loser -

youtube.com




4 min

-

16 set. 2006

-

Vídeo enviado por Synderr


Official Video-clip for Ayreon's "Loser".

Ayreon - Day Three: Pain -

youtube.com




5 min

-

18 jun. 2007

-

Vídeo enviado por eliasreyes


the third song from The Human Equation, "Day Three: Pain"

Ayreon - Amazing Flight -

youtube.com




10 min

-

27 mar. 2009

-

Vídeo enviado por Divonexian


An Amazing Flight Through Space, from the Ayreon album "Into the
Além de Arjen Lucassen (guitarra, baixo e teclado), o GUILT MACHINE conta com Jasper Steverlinck (vocal, da banda de rock alternativo ARID), Lori Linstruth (guitarra, ex-STREAM OF PASSION e empresária de Arjen) e Chris Maitland (bateria, ex-PORCUPINE TREE). "On This Perfect Day", registro da união do quarteto, não parece ser o primeiro álbum do grupo. O disco, tão pouco, soa como a obra de uma banda novata.

Ao invés disso, as músicas longas e os arranjos complexos parecem muito mais o resultado de um conjunto experiente – e não de um projeto com o futuro ainda incerto (não há nenhuma garantia que haverá um segundo disco).
Com cerca de uma hora de duração, o álbum de estreia do GUILT MACHINE conta com apenas seis faixas. Na sua essência, todas as composições contêm uma estrutura similar: a abertura, com uma sonoridade futurista; o andamento, mais lento e atmosférico com variações para momentos verdadeiramente pesados. "Twisted Coil", música que abre o disco, chega a se aproximar da música pop na sua parte cadenciada, mas quando abre caminho para guitarras mais intensas, acompanhadas por teclados, lembra por demais o trabalho mais atual do DREAM THEATER.
Embora "Leland Street" não chegue a empolgar, "Green and Cream", por outro lado, possui variações mais complexas e interessantes. É aqui que estão, em evidência, longas passagens instrumentais – bem trabalhadas, diga-se de passagem –, momentos de maior intensidade emocional e um instrumental realmente pesado. O GUILT MACHINE não quebra nenhuma barreira musical na sua estreia e, mesmo investindo muito pouco em originalidade, faz um trabalho muito competente.
Os músicos estão bem entrosados, presenteando os fãs com interessantes variações entre o clima pesado e o clima mais obscuro, como em "Season of Denial", candidata a melhor do CD.
O lado mais melancólico e arrastado do GUILT MACHINE funciona igualmente bem, nas duas últimas músicas, "Over" e "Perfection?"."On This Perfect Day" é um álbum elaborado por Arjen Lucassen para ser digerido aos poucos – para que os fãs possam aproveitar a riqueza das melodias e das variações de andamento. O disco, marca mais um momento criativo e digno de Lucassen.
De curioso, somente as dezenove mensagens gravadas por fãs, escolhidas pelo guitarrista, que estão presentes em todas as composições do CD. Do chinês ao francês, destaque para a passagem "nada é mais triste que a morte da ilusão", gravada por um brasileiro (suponho), no início de "Perfection?"
.