Future Recollections
Este ambicioso quinteto de Londres desenvolveu um trabalho muito interessante mesclando psicodelia, rock progressivo e jazz com arranjos criativos e musicalidade soberba. Lançado em pelo selo Evolution no outono de 1970, afundou sem deixar vestígios. Seus registros são agora muito raros e procurados.
Raw Material é muitas vezes comparado a Van Der Graaf Generator. Esta não é uma comparação ruim, já que ambas as bandas fizeram música progressiva singular dando ênfase para o saxofone, gerando grandes composições que deram origem ao jazz progressivo desde então. Peças baseadas em guitarras pesadas, grandes riffs de sax e teclados, com momentos acústicos e melódicos grandiosos, que lembram os primeiros álbuns Pink Floyd.
O grupo surgiu para o cenário mundial já no final dos anos 1960, seu estilo compreendendo várias vertentes do rock tornou suas obras clássicas para os colecionadores ao longo dos tempos, considerado também um dos pioneiros em referência a um som ainda denominadamente desconhecido, o "rock espacial".
O álbum começa com Time and Illusion, canção progressiva que tem no órgão de Colin Hatt o seu destaque, mostrando que o músico possuía talento e criatividade. I'd be Delight também é uma canção agradável, bom trabalho do baixista Phil Grunn, além da flauta e sax por conta do grande desempenho de Mick Fletcher. "Fighting Cock" também é outra bela canção, uma balada situada entre Van Der Graaf Generator e King Crimson, porém sem ser exatamente uma imitação, pois o Raw Material tinha personalidade definida. Bobo's Party fecha o lado A
O lado B, os destaques são as faixas Pear on An Apple Tree, um blues rock com direito a ótima guitarra e teclado estilo boogie ao fundo para dar um toque especial e Future Recollections que é uma balada progressiva que traz bons momentos instrumentais. Já Traveller Man está mais próximo do psicodelismo americano e com leve influência blusey, notadamente a gaita durante a execução. A faixa que fecha o álbum, Days of the Fighting Cocks, também é fortemente inspirada pelo som nascido na costa oeste americana. Raw Material teve um relançamento em 2001 pelo selo espanhol Wahwah Records para deleite dos fãs do gênero. Existem também edições com o formato digital dos dois discos da banda. Boa audição!
Track Listings:
Time And Illusion
I'd Be Delighted
Fighting Cock
Pear On An Apple Tree
Future Recollections
Traveller Man
Destruction Of America
Time And Illusion (different version)
Hi There Halleluja
Bobo's Party
Days Of Fighting Cock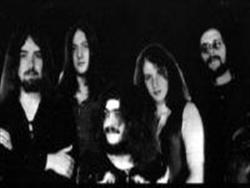 Line-up/Musicians
Colin Catt / lead vocals, keyboards
Mike Fletcher / saxophone, flute, vocals
Dave Green / guitar
Phil Gunn / bass, guitar
Paul Young / drums, percussion
Studio Album, released in 1970
Mp3
Pass: holeinthewall
"One of the best and most accessible underground jazzy prog LPs of the period" – Galactic Ramble