Ótima banda suíça, Kedama foi formada em 1971 por Christian Linder (guitarra, teclados) e Richard Rothenberger (teclados), enquanto o baterista Peter Suter ingressou em 1972. Em 1973 Kedama ganhou um concurso de rock, e a oportunidade de gravação em estúdio. Este seu álbum de estréia foi lançado em 1976, denominado "Live At Sunrise Studios" (Moon Records).
O trio tocou números instrumentais que podem ser vistos como longas jam sessions, todo o trabalho em alto nível, onde esbanjam qualidade e energia, muito rico em improvisações e mudanças de ritmo, lembrando em alguns momentos o "Gentle Giant", "King Crimson", ou mesmo "ELP", embora mais na veia do krautrock com eventuais passagens de eletrônica.
As 4 primeiras faixas deste conjunto provêm do vinil original, sendo mais ecléticas no estilo jazz-rock, enquanto as faixas bônus um tanto mais progressivas, com destaque ao meu ver para "
Two Souls In The Space"
. Algo comum naqueles tempos, Kedama não emplacou de imediato, acumulando dívidas. Depois de um concerto em 1978 obtendo pouca audiência, a banda decidiu dar um tempo.
Após vários anos o seu primeiro álbum ganhou uma reedição em 1999. A popularidade deste segundo lançamento do álbum motivou-os à uma reunião, seus fundadores, Linder e Rothenberger gravaram material novo, lançando o auto-intitulado "Kedama" em 2002. Boa audição!
Kedama
Live At Sunrise Studios
Genre: Krautrock/ Instrumental Progressive Rock
Switzerland 1976 (1999)
Tracklist:
Live At Sunrise Studios (1976)
1 Ouverture 7:28
2 Finale 12:03
3 Our Power 3:59
4 Zugabe 9:27
Bonus Tracks (Unreleased) (1977)
5 Chinese Dragon 9:14
6 Hwrklnzg 3:39
7 Honey Moon 5:43
8 Improvisations 3:06
9 Intermezzo 6:24
From Sampler "Perspectives" (1975)
10 Two Souls In The Space 7:14
11 Feelings Without Name 3:56

Total Time: 72:13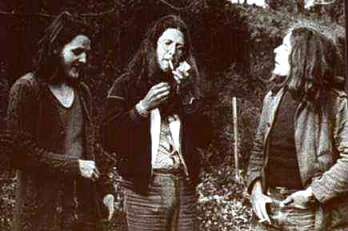 Line-up / Musicians:
Christian Linder / guitars, keyboards
Richard Rothenberger / keyboards
Peter Suter / drums, percussion
Ouverture
All Music review (by Stanton Swihart):
Kedama's sole album, originally released in 1976, was recorded with only the use of an Artificial Head microphone, an odd state-of-the-art-for-the-times instrument made of artificial material and fashioned in the shape of the human head with microphones placed in the position of anatomically correct ears so that the music would exactly mimic human hearing. This technique, however, also forced the band to record live and move from instrument to instrument without making a sound, or else the recording would have been compromised. You can just envision in songs such as "Finale," when the music burns to a low-pulsed hush, that one or more members are tip-toeing to a different instrument to add yet another bit of just the right tonal color to the song. That alone would make Live at Sunrise Studios some kind of musical anomaly, yet the music itself is of such a consistently high level -- perhaps because the trio had to find creative ways to make their inspired sounds -- that it makes the album a wholly accomplished and unique venture. The starting point forKedama was progressive rock, but their album veers excitingly away from the stylistic dead ends offered by that music at the time. Familiar instruments such as Moog synthesizer, and Mellotron were employed as per prog rock law, but in the hands of the Kedama members, and with the unorthodox recording environment in which they worked, the band created a dense instrumental framework full of surprises. Perhaps the boldest thing about the recording is its array of textures. The music is resonant and bright, and cracks out of the speakers with vigor and richness. The four original tracks from Live at Sunrise Studios take twists into uncharted territory, including free jazz and ambient music, and, although the guitar is a central part of Kedama's sound, rhythmically foreshadows some of the impending electronic music to come as well, but it is always brought back to a proper conclusion. A wealth of bonus tracks are included on this reissue, most from 1976, but with a couple dating all the way back to 1973. They are generally a bit more entrenched in progressive rock but are often as, if not more, scintillating as the songs on the proper album, full of strange and alien sounds and instrumental virtuosity.