Robert Fripp confirma o novo line-up com sete músicos, sendo três bateristas.
Depois de confirmar três shows em Nova York, Fripp revelou seus planos para um total de 17 shows em nove cidades, incluindo Boston, Los Angeles e Chicago. Ele que há três anos anunciou sua retirada da música, desiludido, e desgastado com a batalha judicial que se arrastou por seis anos com a Universal Music Group, finalmente resolvida em 2013, confirmou o retorno do King Crimson.
Em setembro passado, Robert Fripp surpreendeu o mundo, quando confirmou que o grupo estava de volta como um septeto, mais uma vez reinventando sua roupagem prog-rock seminal, e prometendo fazer shows depois de um ano de ensaios. Sua intuição foi precisa. Suas primeiras apresentações começam em setembro a partir de Nova York, dias 18, 19 e 20, no Best Buy Theater que têm capacidade para 2.100 pessoas..
Em seu blog, Fripp disse que cedeu aos apelos da mulher, a cantora Toyah Wilcox, e de amigos para reativar o grupo, somando-se à expectativa dos músicos envolvidos, escreveu: "Todos expressaram grande entusiasmo com o retorno, vamos em frente!"
King Crimson - Elstree Studios
Este line-up - o oitavo na história da banda, além de Fripp, trás o baixista supremo Tony Levin, os veteranos bateristas-percussionistas Pat Mastelotto e Gavin Harrison (Porcupine Tree), acompanhados pelo eclético baterista Bill Rieflin (REM, Nine Inch Nails), além do multi-instrumentista Jakko Jakszyk e do lendário mestre, Mel Collins. Estes dois últimos já haviam colaborado com Fripp no até então mais recente trabalho relacionado com Crimson, (Jakszyk Fripp & Collins), o álbum "A Scarcity of Miracles" ainda em 2011. Enquanto Rieflin participou com Chris Wong, Robert Fripp e Toyah Willcox em um projeto chamado The Humans. E Collins, como muitos já sabem, faz parte da história do King Crimson, tendo anteriormente colaborado em vários álbuns, incluindo o icônico Red de 1974.
A famigerada disputa judicial fez com que Robert Fripp se aposentasse de apresentações ao vivo. O King Crimson tocou pela última vez em 2008, enquanto o próprio Fripp não tocava ao vivo desde 2010. Não há planos, diz ele, para o novo King Crimson entrar em um estúdio, visando lançar um novo álbum por enquanto. Eles pretendem apresentar versões "reconfiguradas" do material carmesim existente.
Todas estas notícias foram (e continuam sendo) surpreendentes, dado o desgosto de Fripp para com a indústria da música. Em 2012 entrevistado pelo Financial Times, declarou: "A minha vida como músico profissional é um exercício de futilidade sem alegria". Então para os fãs, como eu, é momento de comemorar. Confira o itinerário completo:
King Crimson 2014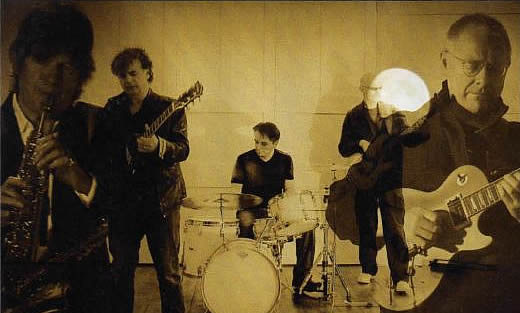 9/9 Albany, NY - The Egg
9/10 Albany, NY - The Egg
9/12 Philadelphia, PA - Kimmel Center
9/13 Philadelphia, PA - Kimmel Center
9/15 Boston, MA - Colonial Theatre
9/16 Boston, MA - Colonial Theatre
9/18 New York, NY - Best Buy Theater
9/19 New York, NY - Best Buy Theater
9/20 New York, NY - Best Buy Theater
9/23 Madison, WI - Barrymore Threatre
9/25 Chicago, IL - The Vic
9/26 Chicago, IL - The Vic
9/30 Los Angeles, CA - Orpheum Theatre
10/1 Los Angeles, CA - Orpheum Theatre
10/3 San Francisco, CA - Warfield Theater
10/4 San Francisco, CA - Warfield Theater
10/6 Seattle, WA - Moore Theatre