As imagens são da genial animação "The Mysterious Explorations of Jasper Morello", numa adaptação às evoluções de "Jordrök" que têm uma fantástica apresentação neste festival.



Anglagard, 2003 - Live At Nearfest
Uma jornada espetacular com interpretações perfeitas por parte da banda. Embora consagrada a melhor banda do progressivo nos anos 90, supera as expectativas deixando o público em completo delírio que aplaude de maneira incansável ao término de cada uma das músicas. 11 anos se passaram da sua edição e as execuções se mostram atemporais. Obra prima.
Foi seu terceiro show nos EUA na ocasião, no aclamado festival "NEARfest", similar em importância ao "Progfest", embora na costa oposta.
O ano de 2002 viu a banda ensaiando novamente, em princípio sem Tord Lindman, no entanto. Depois de inúmeros ensaios a banda finalmente voltou aos palcos em junho de 2003, um show altamente ansiado em sua cidade natal de Estocolmo (Mondo, Medborgarhuset). Em sequência vieram "Artrock Festival", Saalbau Luisengarten, Würzburg, Germany"; NEARfest, Trenton War Memorial, Trenton, USA; "Festival Crescendo", Saint Palais sur Mer, France; e "The Spirit of 66", Verviers, Belgium.
Na época do "NEARfest 2003" houve o manifesto de milhares de pessoas assinando uma petição para estimular a banda a lançar o show oficialmente, "Mattias Olsson" comentou: "Quando se trata de assuntos como estes, Änglagård é uma lesma no valium". Infelizmente (ou felizmente, o registro existe) o bootleg do show, é única opção em áudio... Entretanto a qualidade é boa.
"NEARfest" nos Estados Unidos, significou tanto um enorme sucesso para "Änglagård", como uma experiência inesquecível para o público. Após mais alguns shows, o grupo fez uma pausa, com foco em seus empregos, famílias e outras atividades musicais. Enquanto isso, "Hybris" e "Epílogo" foram relançados. Com certeza... Boa audição!



Live At Nearfest 2003
Tracks Listing:
Intro
Höstsejd
New Song #1
Genglet Fren Knapptibble
New Song #2
Jordrök
Kung Bore
Epilog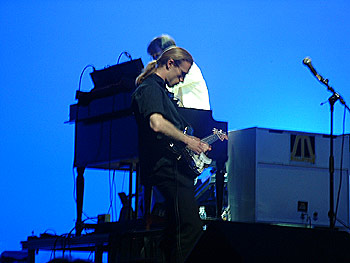 Line-up / Musicians:
Mattias Olsson / drums, percussion
Johan Högberg / bass
Thomas Johnson / Hammond, mellotron, keyboards
Jonas Engdegård / guitar
Tord Lindman / guitar
Anna Holmgren / flute