Os 10 Maiores Guitarristas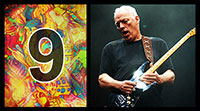 David Jon Gilmour (1946) é guitarrista e vocalista da banda inglesa
Pink Floyd
, tendo também editado álbuns a solo bem como colaborado com outros artistas. Depois da saída de Roger Waters a meio da década de 1980 tornou-se a principal figura da banda.
Nomeado doutor em arte, nasceu em Cambridge, Inglaterra e cresceu em Grantchester Meadows. Durante os intervalos musicais dos Pink Floyd, o músico passava o tempo tocando como músico de estúdio, produzindo discos e até como engenheiro de som de palco para uma enorme variedade de espectáculos incluindo, Roy Harper, Kate Bush, The Dream Academy, Grace Jones, Arcadia, Bryan Ferry, Robert Wyatt, Hawkwind, Paul McCartney, Ringo Starr, Sam Brown, Jools Holland, Propaganda, Pete Townshend, The Who, Supertramp (juntos criaram o êxito "Brother where you bound" do álbum com o mesmo nome), vários "supergrupos" de solidariedade e muito mais.
Lançou o seu primeiro álbum, na Primavera de 1978 simplesmente chamado de David Gilmour. O seu segundo álbum About face foi editado em 1984. Recentemente em 2006 lançou mais um trabalho solo, "On An Island", considerado por ele o seu melhor trabalho em 30 anos.
No ano de 2008, Gilmour lançou o DVD Duplo "Remember That Night - Live at the Royal Albert Hall" que sintetizou os grandes shows deste seu, até aqui, último trabalho. No segundo semestre do mesmo ano, David lançou o álbum "Live In Gdànsk", gravado na Polônia no ano de 2006, em comemoração aos 26 anos do partido Solidariedade. Assim como em "Remember That Night", este disco traz raridades e clássicos do Pink Floyd, além de seus recentes trabalhos.