Sonoramente, essa figura entre as melhores gravações dessa turnê apresentando perfeitamente capturado, o som tridimensional abundante com texturas ricas e cristalinas até a menor nuance, cada instrumento, vocal, e efeitos de som / pré-gravado camada brilha através perfeitamente, para fazer um extremamente gratificante, experiência completamente engolindo escuta.
A
performance da banda quase impecável durante todo o concerto. É uma grande noite para Roger Waters, que surge como poderoso e inspirado, que é fundamental para performances de The Wall, já que praticamente em todos os desdobramentos nesta história ocupa o papel central dentro dela.
A partir desta noite em particular, "The Show Must Go On" foi lançado oficialmente, no entanto o livro fabulosamente detalhado de autoria de Vernon Fitch e Mahon Richard. "
Comfortably Numb - A History Of The Wall
" (confira post), foi o eleito como registro fiel e referência histórica de todo a criação de The Wall.
Pink Floyd - Watching The World Upon The Wall
Earl's Court, London
06/16/1981
1.MC Intro / In The Flesh?
2.The Thin Ice
3.Another Brick In The Wall (Part 1)
4.The Happiest Days Of Our Lives
5.Another Brick In The Wall (Part 2)
6.Mother
7.Goodbye Blue Sky
8.Empty Spaces
9.Young Lust
10.One Of My Turns
11.Don't Leave Me Now
12.Another Brick In The Wall (Part 3)
13.Goodbye Cruel World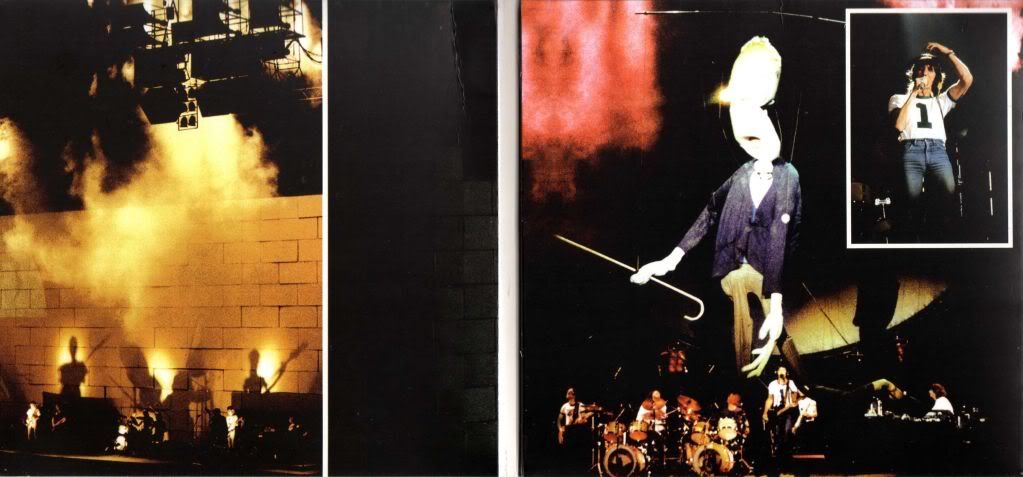 Disc 2
1.Hey You
2.Is There Anybody Out There?
3.Nobody Home
4.Vera
5.Bring The Boys Back Home
6.Comfortably Numb
7.The Show Must Go On
8.MC Intro
9.In The Flesh
10.Run Like Hell
11.Waiting For The Worms
12.Stop
13.The Trial
14.Outside The Wall