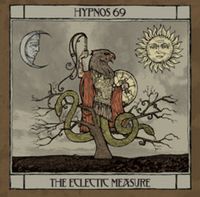 "The Ecletic Measure" mantêm suas origens do estilo stoner rock quase intactas, embora um pouco derivado do King Crimson (e isto é ótimo), sobressai com um arte prog muito forte, o quarteto do oriente definitivamente atinge sua maturidade transformando o stoner rock tradicional em um estilo próprio de prog moderno. Este álbum é tão sonoramente poderoso como é emocionalmente dirigido. Parece que a adição de Steven Marx nos instrumentos de sopro e teclados ajudou a oferecer mais à sua paleta musical.
"Hypnos 69" foi fundada em 1994, em Diest, na Bélgica. Conforme comentado aqui no blog por ocasião do álbum "
Legacy(2010)
", seu nome foi inspirado no antigo deus grego do sono e da subconsciência. Este álbum se adapta totalmente às suas versões anteriores, mas é muito mais obscuro também. Ele também se tornou um álbum melancólico com referências míticas, é visto como um conceito (seu conteúdo, reflete jornada de uma pessoa em busca do seu próprio eu, de enfrentar seus demônios e sua transcendência), para ouvir em uma sessão. O álbum submerge em uma atmosfera mística psicodélica, mesclando circunstância lúgubres e melodias relaxantes. Parece uma viagem no tempo através da década de 70 como déjà-vu, passado e presente coexistindo no mesmo álbum.
O clarinete é mesmo a característica principal do tema instrumental "
My Ambiguity of Reality"
, e o sax do onipresente "Mel Collins", como sempre ocupa o primeiro plano.
"I and You and Me" aparenta estar inserido no espírito Floydiano , mas com uma potência sonora que vai além das influências facilmente perceptíveis. A canção que mais me agradou foi a bela: "Deus Ex Machina" melódica e densa, desfecho apropriado para um final impressionante deste álbum. Boa audição!
Hypnos 69
The Eclectic Measure 2006
Tracklist:
01. I And You And Me (I)
02. The Eclectic Measure
03. Forgotten Souls
04. My Ambiguity Of Reality
05. The Antagonist
06. Halfway To The Stars
07. I And You And Me (II)
08. Ominous (But Fooled Before)
09. The Point Of No Return
10. Deus Ex Machina
Total time: 48:26
Line-up / Musicians
Steve Houtmeyers: Electric Guitar, Acoustic Guitar, Vocals / vocals,
Tom Vanlaer: Bass guitar, Moog synthesizer, Hammond organ,
Steven Marx: Tenor Saxophone, Baritone Saxophone, Fender Rhodes,
Dave Houtmeyers: Drums, Percussion, Tympani,