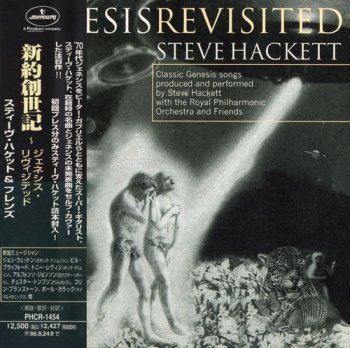 "Genesis Revisited" é exatamente o que o título sugere, um tributo de "Steve Hackett" aos seus tempos áureos, (71/77), com o grupo. Talvez o mais interessante no entanto, seja a abordagem de "Hackett" para o projeto. Steve não só envolvera um elenco all-star de músicos lendários, como muitos dos quais têm laços musicais consigo na formação de diversos capítulos em suas próprias carreiras .

"Ian McDonald", "Bill Bruford", "John Wetton", "Tony Levin"... Poderia dizer "King Crimson" e a "Royal Philharmonic Orchestra" interpretam o melhor de "Genesis"? Eu diria que "Steve Hackett" é um dos poucos guitarristas que sem dúvida supriria a ausência de Fripp... A verdade é que uma grande variedade de músicos estão aqui reunidos para reviver muitas das canções clássicas do "Genesis", como "Chester Thompson", "Alphonso Johnson", "Paul Carrack", "Colin Blunstone", e até mesmo a Royal Philharmonic. Uma reunião de fato fantástica não poderia deixar de funcionar em alto nível.
Algo bastante incomum nesta obra, "Waiting Room Only", nunca fora lançado em um álbum do "Genesis". Consta do encarte que "The Lamb Lies Down on Broadway" teve uma jam atonal chamada "The Waiting Room" - e que aqui tentou-se recapturar o espírito por forma semelhante e criar uma peça totalmente nova no processo então intitulada "Waiting Room Only".
Outra inédita surpresa, a bela "Deja Vu", originalmente desenvolvida em 1974 por "Peter Gabriel" e "Steve Hackett", por razões desconhecidas permaneceu adormecida no tempo para após 20 anos, ver-se interpretada aqui. Curiosa também a presença de "
Valley of the Kings", obra de Hackett, composição que nos oferece um vislumbre de algo mais dentro do "Genesis" que poderia ter sido realizado, dai uma possível associação ao evento.
O resultado final é muito interessante. Em geral, fiel ao espírito dos originais, algumas versões foram extremamente felizes em seus arranjos orquestrados, outras não tão impressionantes. John Wetton,
por exemplo,
oferece inspiradas interpretações a exemplo de "Watcher of the Skies" e "
For Absent Friends" e "
Firth of Fifth"
.
À exceção dos vocais estranhos de "Hackett", acho que "
Fountain of Salmacis", aqui vive sua melhor versão.
Além da exuberante "
Royal Philharmonic" que é uma, senão a melhor referência que existe, executando obras de rock, um ótimo exemplo é o seu álbum onde interpreta "Pink Floyd".
Um álbum, que traz à tona aspectos do som Genesis com uma abordagem intrigante de muita qualidade, atende de forma satisfatória aqueles que como eu, vêem num tipo de acontecimento deste porte, uma saudosa oportunidade em reviver "Genesis" em seu auge criativo, e de forma inusitada. "Steve Hackett", fez um trabalho respeitoso e cativante em alguns de seus clássicos da antiga banda. Ele é certamente um dos poucos que poderia conduzir obras deste nível e rearranjá-las, sem ferir os originais. A capa também foi de muita inspiração. No todo é como olhar uma pintura primorosa através do espelho, vendo por outro ângulo algo que nunca esqueceu. Boa audição!
Genesis Revisited - 1996
Japan Edition
Mercury - PolyGram
Tracks:
Watcher of the Skies (8:40)
Your Own Special Way (7:28)
Dance on a Volcano (6:29)
Valley of the Kings (5:53)
Deja Vu (9:39)
Riding the Colossus (3:02)
For Absent Friends (4:18)
Fountain of Salmacis (9:53)
Waiting Room Only (6:53)
I Know What I Like (5:37)
Firth of Fifth (8:51)
The Musicians:
Steve Hackett / vocals, guitars, percussion, harmonica, orchestration

John Wetton / vocals, bass

Bill Bruford / drums

Tony Levin / bass

Chester Thompson / drums

Ian McDonald / saxophone, flute

Paul Carrack / vocals

Colin Blunstone / vocals

Alphonso Johnson / bass

John Hackett / flute

Pino Palladino / bass

Julian Colbeck / keyboards

Aron Friedman / keyboards, orchestration, programming

Hugo Degenhardt / drums

Nick Magnus / keyboards, programming

Will Bates / saxophone
The Royal Philharmonic Orchestra: Sanchez / Montoya Chorale

Roger King / keyboards, vibraphone, orchestration, programming

Jerry Peal / keyboards, programming

Ben Fenner / keyboards, orchestration, programming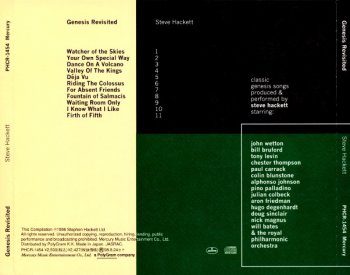 FLAC (Japan)