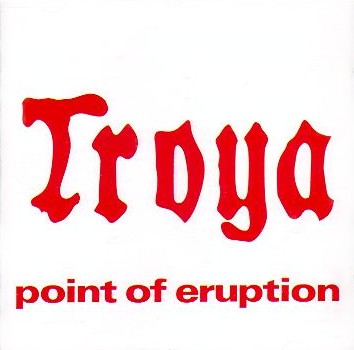 "Troya" surgiu em Dortmund, em 1971, e começou a fazer escola como banda de covers, até conseguir desenvolver o seu próprio repertório, gravando e produzindo um LP em 1976. Competente progressivo sinfônico que prima por belas melodias, alguma semelhança à exemplo de "Sinclair", (minha preferida), aos grupos "Camel" ou Eloy", até mesmo por serem adeptos ao mesmo estilo de progressivo.

"Point Of Eruption", é um álbum dosado com mellotron e flauta bastante atmosférico, excelente nos teclados e uma guitarra que responde com qualidade dentro dos temas, mantendo muito bom nível em todo o conteúdo deste álbum. Elmar Wegmann além de proporcionar o equilíbrio, ainda é mentor de alguns solos de alto nível. A banda demonstra que a principal característica deste registro é o seu foco no bom desempenho de seus instrumentos, 3 das 6 faixas são instrumentais e ao meu ver, "Choke" retrata este fato em sua melhor expressão. Outra faixa que merece destaque é "Chromatik", também instrumental.
Em seu livro "Cosmic dreams at play" (Glasgow, 1996), o norueguês Dag Erik Asbjørnsen, lista "Point Of Eruption" entre os dez melhores LPs Krautrock de todos os tempos. Somente sua duração deixa a desejar, menos de 33 minutos, pela qualidade poderia ser mais extenso.
Esforço do próprio grupo, sua edição foi extremamente reduzida (apenas 200 cópias), um vinil muito cobiçado entre os colecionadores. O selo que mais contribui ao longo dos tempos visando resgatar as memórias perdidas de obras tão valiosas "Garden Of Delights", relançou este tesouro perdido em CD em 2007. Boa audição!
Point Of Eruption - 1976
Garden Of Delights
She (5:46)
Battle Rock (7:58)
Chromatik (4:06)
Festival (3:48)
Sinclair (4:58)
Choke (5:58)
Elmar Wegmann / guitar, flute, vocals
Klaus Pannewig / drums, glocken, vocals
Wilhelm Weischer / bass
Peter Savelsberg / organ, mellotron, and e-piano