Before The Fall


Nascido da banda "Helicopter", este excelente grupo de prog sinfônico foi fundado na cidade de St. Petersburg, em 1976, na Flórida, e é profundamente inspirado nos primeiros trabalhos do "Genesis", onde a parte instrumental era genial; este álbum contêm apenas 04 faixas, porém tratam-se de épicos que se desenvolvem repletos de agradáveis e ricas alternâncias rítmicas regadas com momentos melódicos, sempre emergindo à consistentes e complexos trabalhos instrumentais em alto nível, conduzidos com maestria por todos os elementos da banda.
Os diálogos entre a guitarra e o sintetizador de estilo acústico criam um clima orquestral que mostra-se eficiente para a passagens mais dramáticas das músicas. As seções rítmica além de precisas mantém-se muito bem sustentadas pelo baterista Rodney, por vezes trazendo a lembrança o mestre "Bruford", com seu complexo domínio da bateria em profusa polirritmia, e um baixo sólido por Rick Leonard com muita autoridade. O tecladista faz uso de teclados variados utilizando um Minimoog Omni ARP, (que executa sons de instrumentos de características acústicas). Um piano elétrico, neste caso, um RMI Electric Piano /Harpsichord, que atende a propósitos que se aproximam mais à linhas de Cravo do que propriamente piano, como o que Tony Banks usou ​​em "Lamb Lies Down on The Broadway" e "Rick Wakeman" pelo "Yes" no álbum "The Six Wives of Henry the VIII", e um instrumento pouco conhecido chamado Orchestron, similar ao Mellotron. O vocal é mais dramático do que "Gabriel" (ou mesmo "Fish"), um tanto exótico, mas funciona bem.
Os temas assim como a parte instrumental em humor, variam entre obscuros á aventuras de ficção. Como o tema inicial anti-nazista e o conto dos peixes que se revoltam contra os seres humanos promovendo uma revolução na última faixa.
O autointitulado "Babylon" foi gravado no final de 1977, e lançado um ano depois no Studio 70 sob o rótulo U.S. Artists Records., em 1978. É uma pena que este álbum tenha passado despercebido pelo mainstream, e usufruindo de pouca popularidade, (uma época difícil, onde as vezes o sucesso era decorrente de fatores como a sorte), pois assim quem sabe poderiam ter se encontrado numa condição mais favorável a outras obras subsequentes, o que imagino, viria a somar bastante no cenário do prog sinfônico. Assim como o relançamento deste, em 1989, oriundo da Califórnia de propriedade de Greg Walker, o selo Syn-Phonic lançou dois álbuns contendo material ao vivo, "Night Over Never "Live At The Empty Keg 1" e "Better Conditions For The Dead "Live At The Empty Keg 2" (ambos gravados em 1978)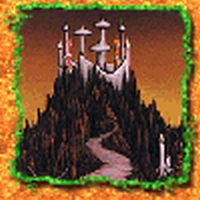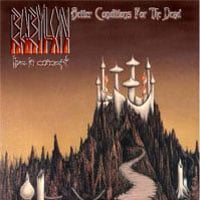 Night Over Never --
Better Conditions
Nos shows ao vivo da banda serviram-se do uso de filmes, slides e adereços, também à semelhança do "Genesis". Um detalhe que achei curioso, enquanto capa do álbum reeditado pela Syn-Phonic, mostra um alienígena, a japonesa ao que me parece, não... (um ser andrógeno, um androide talvez). Enfim, esta obra é uma daquelas jóias esquecidas nas profundezas do universo progressivo dos anos 70, um clássico injustamente desconhecido. Boa audição!
Babylon
Studio Album, released in 1978
(2010 SHM CD Japan)
Songs / Tracks Listing
1. The Mote In God's Eye (7:00)
2. Before The Fall (10:54)
3. Dreamfish (9:12)
4. Cathedral Of The Mary Ruin (7:38)
Total Time:
34:44
Musicians:
Rick Leonard / bass, voice, bass pedals
Doroccus / lead voice, synthesizers, electric piano, Orchestron, Omni
Rodney Best / drums, percussives
J. David Boyko / guitars, muted variations thereof
G.W. Chambers / synthesizers, acoustic and electric piano, orchestron, Omni, voice
Mp3 320 Kbps - 48 kHz
multiupload
-
(
82,60 MB)
uploading
-
(
82,60 MB)
ou
FLAC
multiupload
-
(228,30 MB)
uploading
-
(228,30 MB)