Quill foi fundada por três amigos músicos em 1975. Progressivo sinfônico sem um guitarrista de ofício, a magia do grupo está em seu belo conteúdo melódico bastante acessível. A banda está contando uma história, um álbum conceitual que combina a magia dos contos de fadas e da busca do eu interior. Aquela paixão característica dos épicos do progressivo.
Ele aborda um apocalipse que cobre o universo conhecido e a salvação através da proteção de um único livro que contém a "soma de todo o conhecimento". Lembra o filme "The Book of Eli", com Denzel Washington, mas expandido-se aos reinos intergalácticos e multi-dimensionais.
O título do álbum "Sursum Corda", que significa "Levantai os vossos corações" em latim, diz tudo. A música de Quill evoca sonhos, fantasia, drama, e paixão. Eles capturaram a essência de estilos clássicos que vão de marchas (como Edward Elgar), à música de câmara quase barroca, (Bach). O uso do Combo Harpsichord da Baldwin (Cravo elétrico), combinado com o Moog cujo som se assemelha a flauta por DeLoria, fica muito bonito. Jim com o carrilhão de orquestra (orchestral & tubular bells), também chamado de sinos tubulares, acentua os belos momentos, e as passagens mais calmas, com rara beleza.
O trabalho de baixo de Keith, certamente complementa os teclados e vocais com habilidade e harmonia. Nos concertos, Keith também acrescenta partes com guitarra. E é um dos principais letristas.
Descrever Quill como um mero clone do lendário ELP seria um grande erro. Em comum, ambos
DeLoria
e Emerson, são exímios tecladistas, mas o fluxo de conteúdo lírico da música do Quill é muito distante do estilo de abordagem dinâmica do mais puro virtuosismo técnico, onde Emerson é provavelmente o mais talentoso dos dois. Mas para linhas melódicas claras, poderosas e principalmente mais acessíveis, sem abdicar do virtuosismo, o trabalho de DeLoria nos oferece uma atmosfera bastante agradável, semelhante, (respeitando as proporções), as obras mais conhecidas de Rick Wakeman, por exemplo "Journey to the Centre of the Earth", que considero uma obra-prima singular.
A qualidade da remasterização deste CD pela Syn-Phonic (1993) é de primeira. A banda ganhou status de filme cult, mas Quill nunca teve o apoio de uma grande gravadora e eles devem ser louvados pela dedicação ao seu ofício que nos trouxe esta maravilhosa obra produzida de forma independente. Outra rara preciosidade do universo progressivo. Boa audição!



First Movement Part 2
Studio Album, released in 1977
CD Syn-Phonic SYNCD 10 (1993)
Tracks:
I. First movement: (19:58)
a) Floating
b) Interlude
c) The march of dreams
d) The march of kings
e) Storming the mountain
f) Princess of the mountain
g) Storming the mountain (part II) ~ Lift up your heart


II. Second movement: (15:32)
a) The call
b) Timedrift
c) Earthsplit
d) The black wizard
e) Counterspell
f) The white wizard
g) The hunt
h) Rising
i) The spell
j) Sumnation
k) Finale


Total Time: 35:30

Line-up / Musicians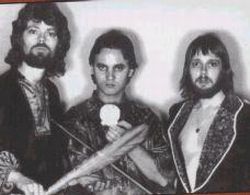 Keith Christian / vocals, Rickenbacker 4001 bass, nylon string guitar
Ken DeLoria / Hammond B2 organ, Moog synths, Mellotron, Baldwin electric harpsichord, Steinert grand piano-forte, Arp string ensemble, RMI Keyboard Computer.
J
im Sides / vocals, drums, orchestral & tubular bells, tympani
Second Movement Part 2