O álbum de estréia da banda húngara Solaris é amplamente reconhecido como uma das obras mais importantes no cenário do prog sinfônico dos anos 80, e certamente de qualquer época. Marsbeli Kronikak é uma obra prima aclamada em todo o mundo mas somente a partir da década de 90, durante a segunda fase da carreira deste grupo húngaro excepcional. A proposta musical da banda é inteligente, criando um mix progressivo muito dinâmico e atraente de música clássica e rock. Seu repertório dá espaço à uma variedade de melodias que servem até mesmo para rejuvenescer a ideologia do prog sinfônico de uma forma peculiar. A partir de poderosos riffs de guitarra, teclados de bom gosto, uma flauta magnífica, repleto de mudanças de clima, quebras surpreendentes, e muita dinâmica em seu desenvolvimento a banda nunca perde o folego.
Solaris foi fundada por alguns amigos de escola em 1980. O nome da banda é derivado do título de um livro do escritor SF Stanislaw Lem. Depois de terem causado uma boa impressão em um concurso de talentos no The Budai Park para um grande público, a banda obteve a oportunidade de gravar seu primeiro single, intitulado "Rock Hullám" em 1980. O line-up inicial era Ferenc Raus (drums), Gabor Kisszabop (bass), Csaba Bogdan (guitars)
,
além de outros colegas de escola, Istvan Cziglan (guitars), Attila Kollar (flute) and Robert Erdesz (keyboards). Eles lançaram o segundo single "Eden/Counterpoint" em 81. E finalmente em 1984 o álbum em questão, que vendeu cerca de 40.000 cópias. O prog rock é muito popular na Hungria: OMEGA fazia shows para multidões de 100.000 espectadores. O line-up clássico da Solaris se deu entre '83 e '85 com Attila Kollar, Istvan Cziglan, Robert Erdesz e os recém-chegados Laszlo Gomor (bateria) e Tamas Pocs (baixo). A partir de 90, a gravadora húngara Gong então reeditou suas obras. Em 1995 a banda foi convidada como o "headliner" do Progfest Festival em Los Angeles por Greg Walker, cérebro por trás da Syn-Phonic, nos EUA. A banda foi aplaudida de pé um seleto grupo de críticos "symphomaniacs" das principais revistas da época. No ano seguinte Solaris esteve aqui no Brasil participando do Rio Art Rock Festival, organizado por Leonardo Nahoum. Confira o vídeo abaixo:
De fato um trabalho em equipe com ênfase para as performances, e arranjos das idéias musicais, no entanto, é justo salientar o trabalho relevante de Erdesz Róbert em suas orquestrações de teclado como suporte harmônico para a banda, e de Kollár Attila impecável tocando flauta, muitas vezes o foco principal do som da banda. Um tesouro por muito tempo obscuro, que revitalizou o legado do prog sinfônico dos anos 80. Boa audição!
Studio Album, released in 1984
Belle Antique / BELLE 101711 / SHM-CD
25 Jun 2010
Songs / Tracks Listing
1. Marsbéli krónikák I. (3:34)
2. Marsbéli krónikák II.-III. (6:32)
3. Marsbéli krónikák IV.-VI. (13:15)
4. M'ars poetica (6:39)
5. Ha felszáll a köd (3:58)
6. Apokalipszis (3:44)
7. E-moll elõjáték (0:29)
8. Legyõzhetetlen (2:46)
9. Solaris (4:53)
10. Orchideák bolygója (3:17)
11. A sárga kör (4:54)

Total Time: 54:01
Line-up / Musicians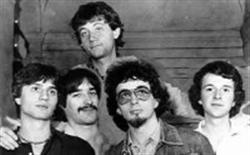 - Istvan Czigman / electric & acoustic guitar, synthesizer, keyboard efect, percussion
- Robert Erdesz / piano, organ, synthesizer, keyboard efect
- Laszlo Gomor / drums, percussion, synthesizer
- Attila Kollar / flute, recorder, synthesizer, keyboard efect, percussion, vocals
- Tamas Pocs / bass

GUESTS:
- Casaba Bogdan / guitar
- Gabor Kisszabo / bass
- Ferenc Raus / drums, percussion
- Vilmos Toth / percussion
Marsbéli krónikák
Part I - II - III