Roger Waters anuncia oficialmente o primeiro disco solo em 25 anos
Roger Waters anunciou nesta quinta-feira, 20 , o seu primeiro álbum de rock em 25 anos, Is This The Life We Really Want?. O produto estará disponível para pré-venda a partir dessa sexta-feira, 21, e tem lançamento mundial marcado para 2 de junho. Além de novo projeto de estúdio, Waters ainda apresenta a turnê Us + Them, que começa no dia 26 de maio nos Estados Unidos e já tem agenda disponível no site do artista.
Segundo um comunicado de imprensa, o novo trabalho é um "comentário inabalável sobre o mundo moderno e tempos incertos" , e recentemente o próprio cantor disse que o LP seria um "passeio de tapete mágico, parte discurso político, parte angustia".
Em entrevista à Rolling Stone EUA em fevereiro, Waters afirmou ter se inspirado na antipatia que ele sente em relação ao presidente norte-americano Donald Trump, além de uma peça para rádio que ele estava escrevendo antes de começar a trabalhar no disco, sobre um homem e a neta dele investigando o porquê de crianças estarem sendo assassinadas em terras distantes. "Duas ou três músicas que partiram dessa ideia estão no álbum", ele disse. "Nigel Godrich me convenceu de que para os propósitos de um disco de rock and roll, o que é o caso, minha ideia teatral – eu havia escrito a coisa toda como uma peça de rádio – era menos que ideal."


Eles retomaram algumas das ideias de Waters, apesar de o cantor e compositor também ter procurado por novas inspirações. A faixa "Wait for Her" foi baseada em uma tradução ao inglês do poema "Lesson From the Kama Sutra (Wait for Her)" do falecido autor palestino Mahmoud Darwish.


Waters disse à Rolling Stone EUA que o conceito da turnê Us + Them, será construído acerca do título do disco. "Mostrarei que estamos vivendo a vida que nós não queremos viver", ele disse. Mas também se relaciona ao nome da turnê, que vem da faixa de mesmo nome do Dark Side of the Moon. "Eu gosto de pensar que as pessoas ainda gostariam de viver em um mundo em que podemos falar dos problemas das mudanças climáticas, onde podemos entender que se tivermos empatia com o outro, nos sentiremos mais felizes", ele disse. "Talvez nós devêssemos começar a olhar para índices de felicidade e não só apenas se ganharemos ou perderemos. E se fizermos isso, então poderemos começar a entender que a ideia de "nós" e "eles" é, na verdade, uma ilusão."
Roger Waters - "Time" - Live in Mexico City, Oct. 2016
O último trabalho de estúdio do artista, Amused To Death, de 1992, foi um estudo profético da cultura popular, que explorava o poder da televisão na época da primeira Guerra do Golfo. A aguardada sequência do álbum é uma rigorosa observação sobre o mundo moderno e tempos incertos, além de se mostrar uma continuação natural de álbuns clássicos do Pink Floyd, como Animals e The Wall. Produzido e mixado por Nigel Godrich, que já trabalhou com nomes como Radiohead, Paul McCartney e U2, Is This The Life We Really Want contará com 12 novas composições e performances em estúdio.
Além de Waters, que canta, toca baixo e violão no trabalho, o álbum inclui músicos como Godrich (arranjos, teclado, guitarra), Gus Seyffert (baixo, guitarra, teclado), Jonathan Wilson (guitarra, teclado), Joey Waronker (bateria), Roger Manning (teclado), Lee Pardini (teclado) e Lucius (vocais) com Jessica Wolfe e Holly Proctor.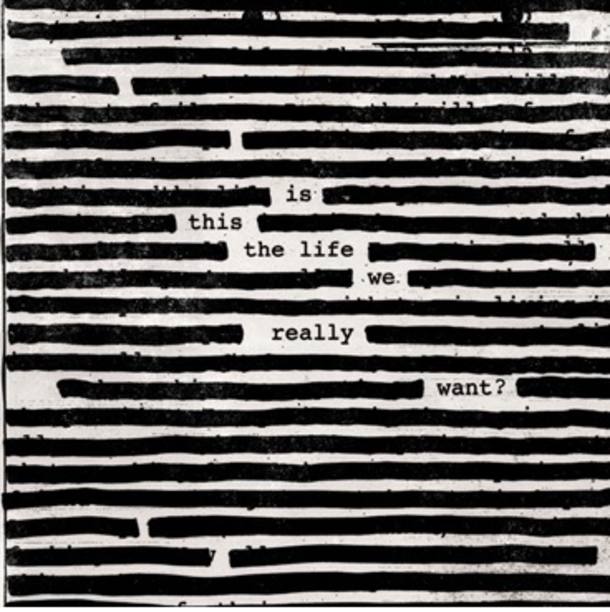 Capa de 'Is This The Life We Really Want?'
Confira as faixas:
1. When We Were Young
2. Déjà Vu
3. The Last Refugee
4. Picture That
5. Broken Bones
6. Is This The Life We Really Want?
7. Bird In A Gale
8. The Most Beautiful Girl
9. Smell The Roses
10. Wait For Her
11. Oceans Apart
12. Part of Me Died
Fontes: Rolling Stone, Estadão